Dedicated Guru Template Released | Guru 5.1.17 Updated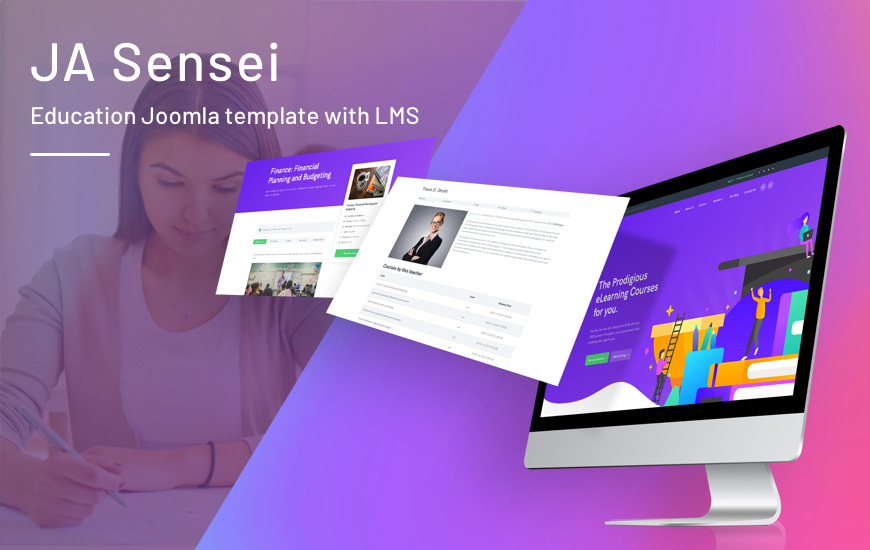 JA Sensei: Education Joomla template released and it's FREE for all Guru pro and Ultimate plan users
JA Sensei is pro Joomla template for education, online courses with LMS based on the best Joomla LMS extension – Guru with powerful features and all required pages for education, online courses: Course category, course list, course detail, teacher list, teacher detail, course registration and more.
The LMS Joomla template is built with T3 Framework, it is easy to customize based on the powerful admin control panel with built-in functionalities: visual layout configuration, responsive layout configuration, megamenu builder, optimization, etc.
You can check out the complete list of features here and download JA Sensei from this link
---
Guru 5.1.17 Updated for new features, improvements and bug fixes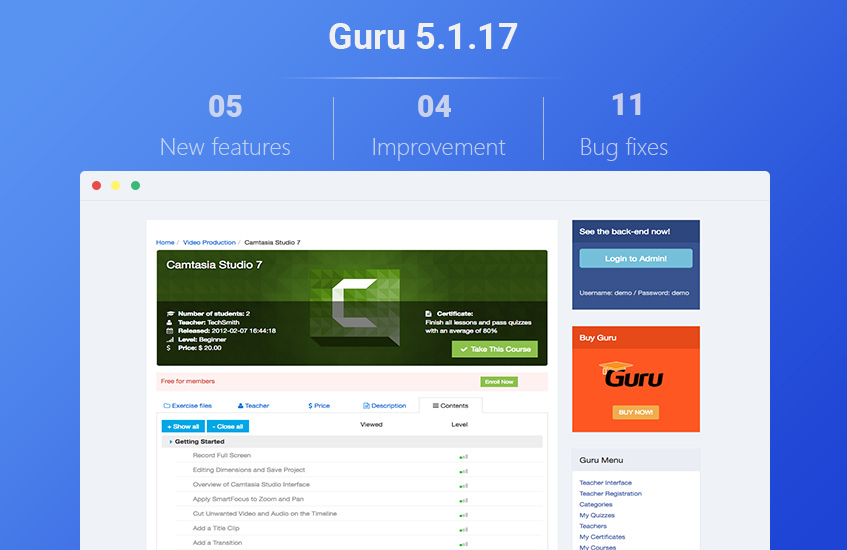 Today we are also releasing updates for Joomla LMS Extension: Guru 5.1.17. This release comes with Dedicated Joomla LMS template JA Sensei and 2 new modules for all Guru Pro users.
The template fully supports the latest version of Guru with stylish course views and Course list module for Guru. Guru 5.1.17 comes with 5 new features, 4 improvements and 11 bug fixes.
Please Check release info below:
New Features:
Check enrolled courses and expired orders : Allow a professional way to enroll student and activatation of course.
New Course List Module : A New list layout to display selected courses. You can use it anywhere on a module position.
Module Course: Add link to Category that course belongs to, show teacher's Avatar
Mailchimp integration for offline payments : Now offline paid students also get an option to subscribe newsletter.
Strip Payment: support Japan Yen currency.
Improvements:
Support Invisible captcha in Register Page
Create email template option for courses
Mod Search Course: Results page will navigate to another page
New Changes for Guru Courses Module: add Layout Advanced Option
Bug fixes
Teacher can not upload Course cover image
Last Viewed Lesson
Module Course: SEO function & active menu doesn't map correctly
The router of Guru doesn't set in right Menu Item
JA Login module is not working on guru page
Site is hanged on after open a lession with a video
Got notice error when search courses
[guru] Got type error on course page
Can't close window when view a lession
Some error on Stripe payment
Teacher – Create Course: Can't click to switch tabs
View Changelog Get it Now Demo