Guru 5.1.14 updated for improvements and bug fixes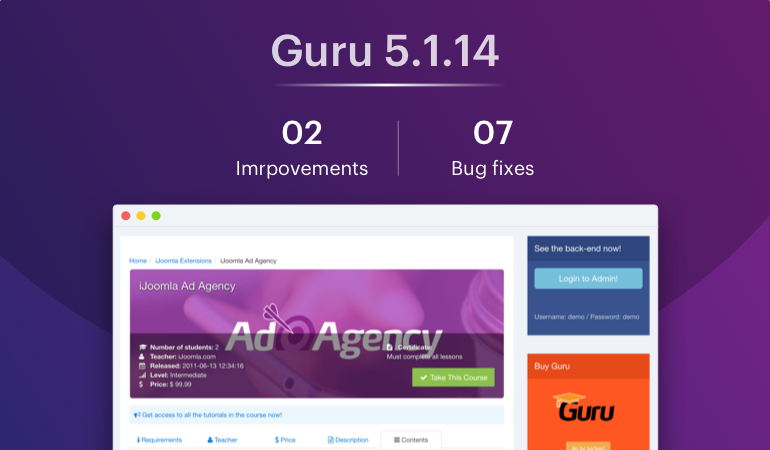 Hi,
This weekend we are releasing updates for Joomla LMS Extension: Guru 5.1.14. This release comes with 2 improvements and 7 bug fixes. The updates contains major improvement in course view to allow open graph tags for social sharing.
Please Check release info below:
Improvements
1. Open Graph tag improvements for course page
Guru 5.1.14 updates come with major changes in Guru edit course view, Now Admin can add open graph tags for the course view to allow user share the course view on the social platform (Facebook). To add the custom open graph tags for each course you need to edit the Course > Course/Avatar.
Here is list of supported Open Graph tags
OG Title : The title of your Course as it should appear within the graph
OG Type: The type of your course "video.movie
OG Image: An image URL which should represent your course within the graph.
OG URL: he canonical URL of your course that will be used
OG Desc: A one to two sentence description of your course
2. Course edit: Add Exercise must have noticed for file type acceptance
Bug Fixes:
Time issue on certificate
Set Course category to Public, can't Category in Course Category list
Attach media in quiz not working
Pending orders shouldn't count into Revenue
jwallvideos Plugin compatible
Backend add audio
Media: Save & new doesn't validate the Teacher field
Get Flat 25% OFF on All iJoomla and Network sites Proucts. Use discount code : HALLOWEEN (Limited Time Offer)
Buy Now