Guru 5.1.16 updated for new features, improvements and bug fixes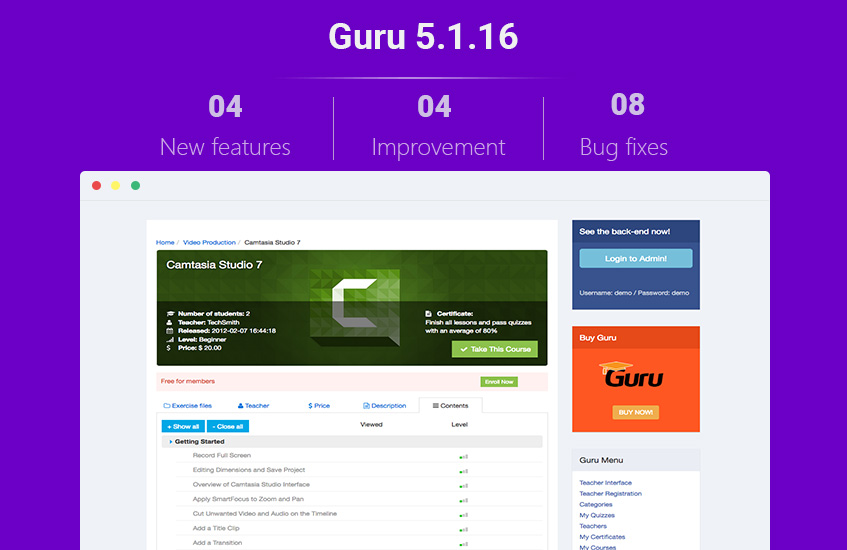 Hi,
This week we are releasing updates for Joomla LMS Extension: Guru 5.1.16. This release comes with new features in Teacher panel, advance payments overview and more new improvements and bug fixes. Guru 5.1.16 comes with 4 new features, 4 improvements and 8 bug fixes.
Please Check release info below:
New Features:
Teacher registration :A User can Become Teacher from frontend.
New menu type My Account : A new Menu item My account is added to login on site and show user account information in Guru
Mailchimp integration improvements: Each course has the option to Add Mailchimp API list to add subscriber based on course

CC JSON export: For payments in Guru, To use this Open Guru admin > Settings, API – Order details.
A key must be generated and saved, then the URL created will give the admin all the CC details from orders in JSON format they can use with other programs.
Improvements
Teacher Registration Menu : Registration menu will show direct registration form.
Incorrect average quiz score : Improvement in average quiz score calculation
Add Language selection option for Guru Course Category: Each category has option to select language package install in Joomla.

Back end: New Page Certificate List : A new certificate page added to see certificate reports
Bug fixes
[Veritrans] Rollback URL is wrong
[Veritrans] Payment success but Status Payment is not changed
Veritrans Payment: Course still in the Cart event Payment done
Veritrans Payment: Use Promo Code, still have to pay the original price.
Number question of final exam is wrong
Certificate List: The list might be add link to some attribute
Certificate List: get error when click to view PDF
[Veritrans] Payment with Promo code is not count correct
View Changelog Get it Now Demo